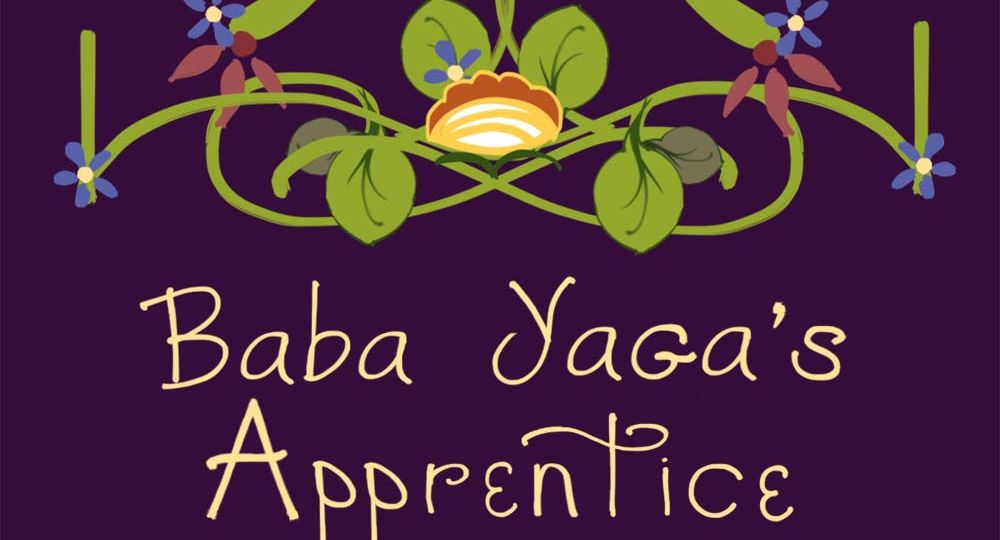 My lovely mentor Francesca De Grandis (aka Outlaw Bunny) is the bestselling author of Be a Goddess!. Francesca teaches shamanism through written text, oral tradition, and her magical paintings. Her new book is Baba Yaga's Apprentice—A Faerie Tale Ritual, available here.
The book cover is at the top of this post. That's her art and calligraphy. The book looks really wonderful, and I love its art, so I asked her a bit about the project.
Jenn: Why did you combine your writing and painting in the book?
Francesca: The book is a story and a shamanic ritual, and I express my shamanism anyway I can. That includes my writing and art. It also includes the way I market my work, the way I cook my breakfast, and the way I hang out with my cat. Shamanism is a way of life for me, and so it imbues everything I do. I know you relate to that! I ornamented every page of the book to evoke magic through both words and pictures.
Jenn: Joy and gentleness are prevalent themes in your work. How does that affect this book?
Francesca: The world can be joyfully beautiful but it can also be horribly disappointing. Sometimes, the only way to stay whole and focused on what means the most to us is to be given some gentleness.
So I wrote a fairytale for grown-ups because fairytales can be very gentle and sweet. The book's not sweet in the sense of being saccharine. The story's down-to-earth and faces facts. But the tale also convey gentleness and mysticism, while leading the reader through an empowerment process. Like I said, the book is a fairytale and a ritual. Sometimes gentle magic can be all the more effective for its gentleness.
Another way the book is gentle is that it's easy reading. As the story proceeds, a ritual simultaneously unfolds for the reader. In other words, you don't have to "do" the book's ritual. Just reading for fun and enjoying the paintings make the spell work. It is so simple; I was excited when I came up with the idea.
Jenn: The painting you did of Baba Yaga for the book shows a very sweet woman, not like the mean Baba Yaga as she is portrayed in fairy tales. Why is that?
Francesca: The tale is my revisioning of Baba Yaga folklore. A story of gentleness may seem impossible when Baba Yaga plays a significant part in the book, since she is traditionally known as a fiercely cruel woman. But the Baba Yaga I met is a kind, gentle, and loving Goddess. After meeting Her and seeing how sweet She is, I could only assume patriarchal jerks misrepresented Her as daemonic. I believe they did this because they were threatened by women's gentleness and freedom.
In bringing Her gentle presence to the story of Her apprentice, I feel I'm bringing her original kindness and beauty back into our culture so that we all can be empowered by it. So mote it be!
Jenn: What benefits will the reader receive?
Francesca: Gosh, too many to list here, LOL, but here are a few. The storybook helps you focus on what's important to you and follow through on it. You also become more able to stay centered in your power and your love, protect your heart from hurt, and feed your magical soul. I'm trying to take good care of my readers.
More benefits are in the webpage that describes the book. And you're posting that webpage link at the end of this interview, so rock on! Thanks so much for this chat! I adore you!
Jenn: Thanks, yes, lovely time! Adore you back!
Check out Baba Yaga's Apprentice—A Faerie Tale Ritual here.