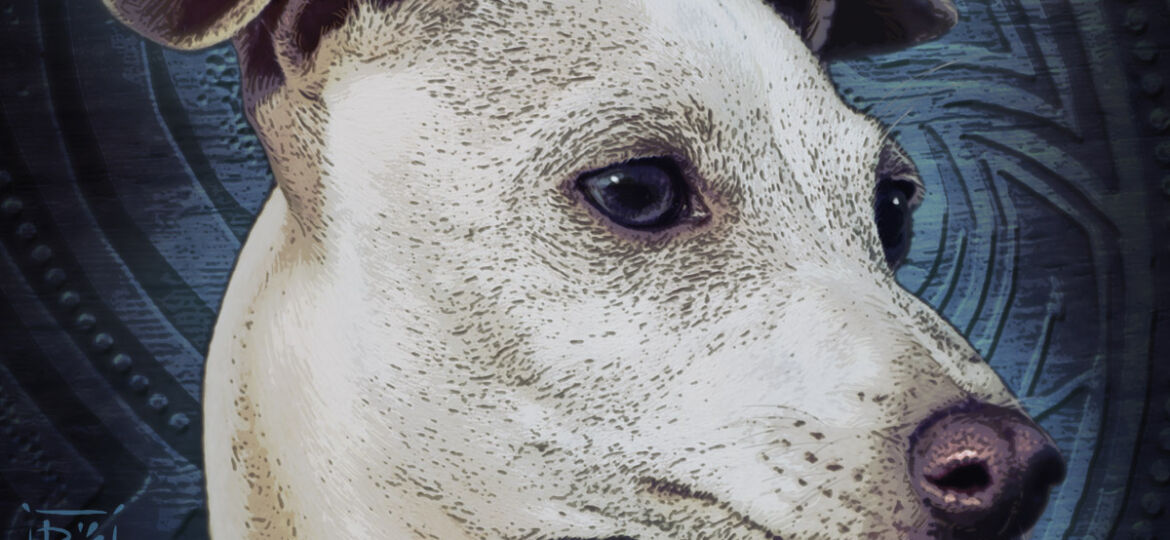 Each month we share excerpts from the illustrated novel Dreams of Ýdalir with our followers. Each excerpt is accompanied by an exclusive "sneak peek"/"work in progress" of the concept art work, created by Roberto especially for the main theme and mood of the chapter it comes from.
Remember, if you want the WHOLE chapter and full finished image (plus so much more!), you can subscribe over at our Patreon Project – new issues come out on the 15th of each month.
Now for the excerpt and art:
One day, on my way home from picking up such a bag of grain, I caught movement out of the corner of my eye. It was close to the ground, small and white, its movements reminded me of a small deer. It was snuffling around in the bushes and as I peered closer, out it came, very timid. I was surprised to see what appeared to be a miniature hound, its body was very sleek and it had a long pointed nose. Although the dog was small, its legs were long and graceful for its size and its eyes were full of sweetness and fear. I didn't want to scare off, so I offered it a small piece of cheese I had in my pocket leftover from lunch. The nose twitched, but as soon as I shifted my way to get closer, the ears went down, the eyes widened, the tail went between the legs and the poor little thing scurried off in a hurry.
If you like what you are seeing and reading, you can get the whole chapter, full image and much much more, which will be included in Issue 3, coming out December 15, 2016. Visit our Patreon Project for more info!