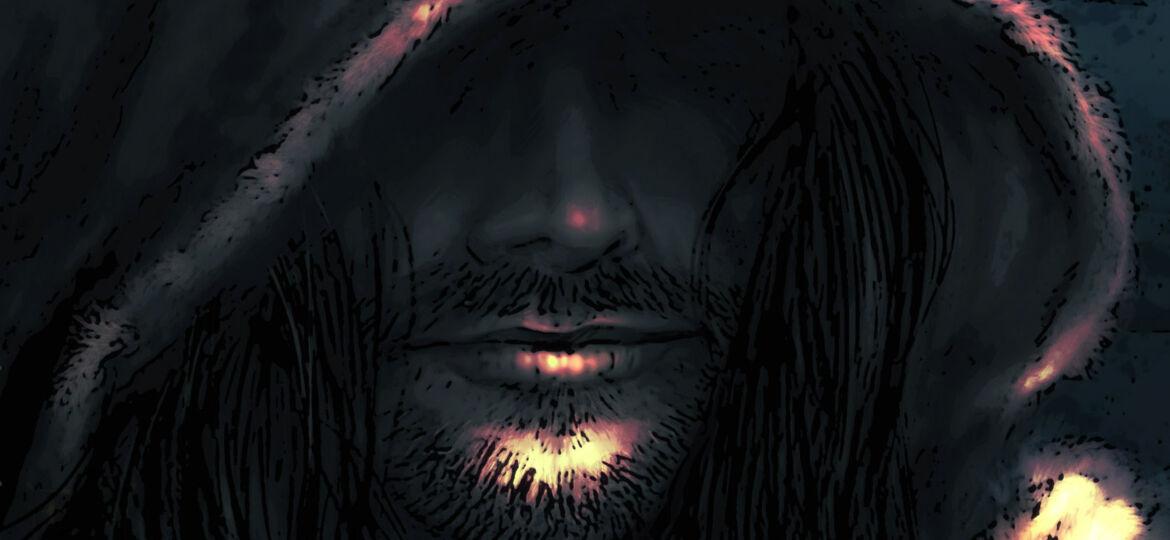 Each month we share excerpts from the illustrated novel Dreams of Ýdalir with our followers. Each excerpt is accompanied by an exclusive "sneak peek"/"work in progress" of the concept art work, created by Roberto especially for the main theme and mood of the chapter it comes from.
Remember, if you want the WHOLE chapter and full finished image (plus so much more!), you can subscribe over at our Patreon Project – new issues come out on the 15th of each month.
Now for the excerpt and art:
This night I dream of a man, who is not a man. He is speaking to me in a low voice, almost like a whisper. His dark, gleaming hair, peaks out from his hooded cloak and streams, straight, thick and luscious, falling over his shoulders, reaching just above his collarbone. I cannot clearly see his eyes, for they are shrouded in shadow. His chin juts out just below the shadow line and I can see dark stubble on its sharp curve. His voice is soothing and I feel comforted by his presence. He speaks to me as though I already understand some major truth and this is just the continuation of a conversation had many times in the past.
"Remember child, it is not just humans giving offerings of prayer, bread and drink that feeds the Gods. More importantly it is what they do when their everyday lives seem to push them beyond their limiting fear and they rise up and are able to do what we call on them for. Just one act, one major breakthrough can feed us for years."
If you like what you are seeing and reading, you can get the whole chapter, full image and much much more, which will be included in Issue 3, coming out December 15, 2016. Visit our Patreon Project for more info!